18th of November 2015 my new star MyNumberOne.se
became a new member of the family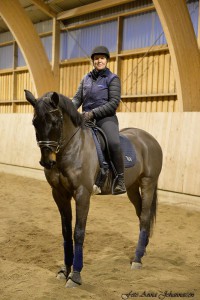 Photo: Anna Johannesson
German gelding, born 2010 by Stakkato – Capitol I, owner: Lena Malmqvist
MyNumberOne.se was born in Germany, owned by Paul Schockemöhle and he was at Flyinge in Sweden for education and for sale. Helena Torstensson has done a great job training him to be a fantastic horse to ride! He was broken quite late, spring 2015 and he was ment to be a show jumper. But, he has more qualities than jumping!
Now he will do dressage instead, but of course do some jumps for education.
I feel so privileged to be able to be "his human" and I am so much looking forward to work with him for many years. The goal is of course Grand Prix.
I hope you want to follow us during the journey all the way there.